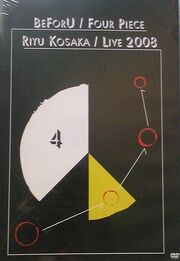 Four Piece / Live 2008
is the third live DVD released by
Kosaka Riyu
, and also
BeForU
. It was only sold through their fan club. It was released October 5, 2008.
Tracklist
(Riyu Kosaka / Live 2008)
m.o.n.s.t.e.r
Change my Way
Kokoro no Ato
the eastern sky
Sunny the Ride
Thousand Stories
3D HEART
every struggle
(BeForU / Four Piece)
Nishiuchi Hiromi introduction (西内裕美)
Tachibana Ayano introduction (立花彩野)
Fukushita Megumi introduction (福下惠美)
BeForU Hatsu Tojo (初登場; First Appearance)
Kimi to Sora to Zutto (キミと空とずっと; You and The Sky Forever)
Live Oete Ending (ライブを終えて エンディング; Finished)
Ad blocker interference detected!
Wikia is a free-to-use site that makes money from advertising. We have a modified experience for viewers using ad blockers

Wikia is not accessible if you've made further modifications. Remove the custom ad blocker rule(s) and the page will load as expected.