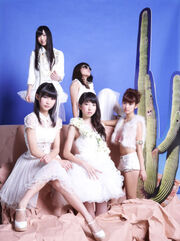 IRF
is a special unit created for the release of the tribute album TRF Respect Idol Tribute, that features members from five different idol groups. The group name stands for "IDOL RAVE FACTORY".
Members
Discography
Compilations
[2012.12.19] TRF Respect Idol Tribute (#1 BOY MEETS GIRL, #7 IRF with DJ KOO from TRF - BOY MEETS GIRL -DJ KOO PARTY MIX-)
Ad blocker interference detected!
Wikia is a free-to-use site that makes money from advertising. We have a modified experience for viewers using ad blockers

Wikia is not accessible if you've made further modifications. Remove the custom ad blocker rule(s) and the page will load as expected.