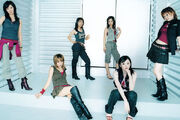 KI•SE•KI is the first single by BeForU. It was released on November 18, 2004. It was released in one edition. It was also the first single to feature the second generation members.
Tracklist
CD
KI • SE • KI
Chikara (re-arranged version)
Firefly (add Vocal&mix)
Graduation (New Vocal&Mix)
Yakusoku
KI • SE • KI (KARAOKE VERSION)
DVD
Inside KI • SE • KI (Making the Video)
"KI • SE • KI" (Music Clip)
DDR Festival (Information Movie)
Featured Members
Song Information
KI•SE•KI
Lyrics: Kosaka Riyu, Naoki Maeda
Trivia
External Links
Ad blocker interference detected!
Wikia is a free-to-use site that makes money from advertising. We have a modified experience for viewers using ad blockers

Wikia is not accessible if you've made further modifications. Remove the custom ad blocker rule(s) and the page will load as expected.