Komatsu Yoma
小松代真

Profile
Nickname
Yoma
Born
December 30, 1974
Birth Place
Akita, Japan
Blood Type
A
Zodiac Sign
Capricorn
Height
162cm
Professional Information
Genres
J-Pop
Occupation
Singer, Actress
Years Active
2000-Present
Group
BeForU Formerly, UNCOVER
Generation
1st BeForU
Left
December 2007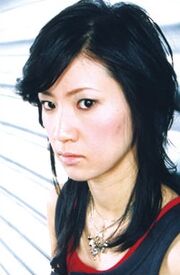 Komatsu Yoma was a first generation member. She left in 2007 for personal reasons.
Info
Hobbies: Music, Movies, Laughter Appreciation, Interior Design, Fashion, Shopping
Special Skills: Putting things in order, using my small hands to do anything
Favorite Foods: Italian Cooking, Chocolate Crepe, Ice Sherbet
Favorite Drinks: Black Tea, Cocoa, Matcha
Disliked Foods: Daikon Oshiro, Mushrooms, Pimento, Foods with a weird color
Disliked Drinks: Coffee, Not Sweet Sake
Favorite Colors: Flavorful shades of pink, monochrome
Discography
Singles
[2008.12.30] Ashita e ~Get ready for tomorrow~ (明日へ; To Tomorrow) (self-produced)
[2009.12.20] Natsu no Sora / Darling (なつのそら; Summer Sky) (self-produced)
Compilations
[2002.04.17] DDRMAX2 DanceDanceRevolution 7thMIX (Disc 01/Track 04 & Disc 02/Track 38: ever snow.)
Discography Featured In
Singles=
Albums
Group Songs
Filmography
Hound Dog 2: (Lewellens neighbor)
Trivia
Is often considered the mature member
Was the oldest member when debuted and stayed the oldest after 2nd generation joined.
Has her own fashion line. Most of the stuff produced from it was used in BeForU concerts and singles.
Could put up with anything.
Gets annoyed at Noria when she messes around.
Once remarked that she makes more money than Maeda Naoki at her 2nd job.
External Links
Ad blocker interference detected!
Wikia is a free-to-use site that makes money from advertising. We have a modified experience for viewers using ad blockers

Wikia is not accessible if you've made further modifications. Remove the custom ad blocker rule(s) and the page will load as expected.