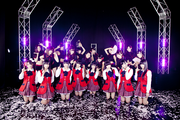 LinQ
is a Japanese pop group based in Fukuoka. The members were formerly split into Lady (older) and Qty (younger) teams, which stopped with 2017's Demolition and Redevelopment Project.
Members
Current Members
Position Undecided
Former Members
Discography
Albums
Singles
External Links
Ad blocker interference detected!
Wikia is a free-to-use site that makes money from advertising. We have a modified experience for viewers using ad blockers

Wikia is not accessible if you've made further modifications. Remove the custom ad blocker rule(s) and the page will load as expected.