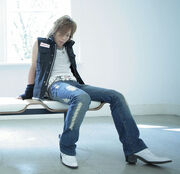 Maeda Naoki
(前田尚紀)
is a member of
TЁЯRA
. He is also the producer for
BeForU
and has also written many songs featured in Benami line of games.
Profile
Name: Naoki Maeda (前田尚紀)
Stage Names: Ω, 8bit, 18o, 190, 190', 200, BLUE DESTROYERS, d-complex, D.J. RICHfeat.TAILBROS, DE-SIRE, DIVAS, FACTOR-X, KTZ, Luv UNLIMITED, mitsu-O!, N&S, N.M.R., NAOKI, NAOKI 190, NAOKI underground, NM, NO.9, NW260, RE-VENGE, Stone Bros., UZI-LAY
Birthday: April 28, 1969
Birthplace: Osaka, Japan
Blood Type: O
Zodiac: Taurus
Likes: Entertainment, Active Work, Los Angeles, Spring, Summer, Personal Work
Dislikes: Subordination, Negative, Fool, Jealousy, Selfishness, Quietness, autumn, winter
Hobby: Everything considered interesting
This interview is featured in the instruction book of DDR MAX
Favorite Instrument: Piano, electric guitar and synthesizer
Favorite Music Style: Dance & Club music, rock, ballad, R&B, etc.
Favorite Music Producer of Artist:

Producers: Dallas Austin, William Orbit, Rodney Jerkins, Jimmy Jam & Terry Lewis, BABYFACE
Artist: Christina Aguilera, Toni Braxton, Undrworld, Limp Bizkit, SASH!, Ian Van Dahl, The Brilliant Green, Hikaru Utada, etc.

Favorite Benami song you have written: DESTINY, CANDY♥, BALLAD FOR YOU, L'amour et la liberte. I love these for songs for now
Discography Featured In
Albums
Original Songs
Maeda Naoki isn't a vocalist but is still credited under TERRA.
Works
BeForU
Kosaka Riyu
TERRA
External Links