OL Ninyo


Mini Album by

Sana

Native title
OLニ〜ニョ
Released
November 21, 2012
Format
CD
Label
Sony Music Distribution

Sana

Albums Chronology
Previous
Sana Coffret
8th Album
Next
MOVING ON
1st Digital Album (2016)
OL Ninyo is a min album released by Sana. It was released on November 21, 2012. It came packed with a booklet.
The theme of the album is "Office Lady".[1]
Tracklist
Go! Go! Presentation (Go! Go! プレゼンテーション)
Lady!Go!
Sweets Paradise
Ah! Wonderful DAY (アッ! ワンダフルDAY)
Arasaa・Korasaaアラサー・コラサー
Pira! Dekkai Kiseki! (ギラッ! でっかい奇跡!)
Lunchtime wa Goyoshin (ランチタイムはご用心)
Machiawase Sentimental (待ち合わセンチメンタル)
Featured Members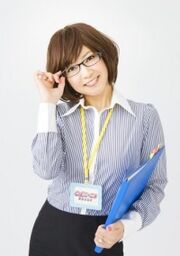 References
Ad blocker interference detected!
Wikia is a free-to-use site that makes money from advertising. We have a modified experience for viewers using ad blockers

Wikia is not accessible if you've made further modifications. Remove the custom ad blocker rule(s) and the page will load as expected.