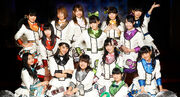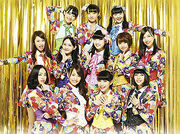 SUPER☆GiRLS
is a group under
iDOL Street
.
Members
Discography
Studio Albums
Best Albums
Instrumental Albums
Video Releases
[2011.09.28] First Concert ~Chouzetsu Shoujo ga Tomaranaii!~ (ファーストコンサート ~超絶少女が止まンないっ!~)
[2012.03.28] SUPER☆GiRLS Chouzetsu Shoujo 2012 Memorial at Nihon Seinenkan (超絶少女2012 メモリアル at 日本青年館)
[2012.09.19] SUPER☆GiRLS Seitan 2 Shuunenkinen SP & Idol Street Carnival 2012 (生誕2周年記念SP & アイドルストリートカーニバル2012)
[2012.12.12] Original Movie "Chouzetsu☆Gakuen ~Mirai e no STEP~" (オリジナルムービー「超絶☆学園〜未来へのSTEP〜」)
[2013.08.07] SUPER☆GiRLS Live Tour 2013 ~Celebration~ at Shibuya Kokaido
[2013.11.06] SUPER☆GiRLS Seitan 3 Shunen Kinen SP Idol Street Carnival Nippon Budokan ~Chozetsu Shojo Tachi no Chosen 2013~ (SUPER☆GiRLS 生誕3周年記念SP アイドルストリートカーニバル 日本武道館〜超絶少女たちの挑戦2013〜)
[2014.06.18] SUPER☆GiRLS Live 2014 ~Chozetsu Kakumei~ at Pacifico Yokohama Kokuritsu Dai Hall (SUPER☆GiRLS LIVE 2014 ~超絶革命~ at パシフィコ横浜国立大ホール)
Compilations / Other
[2012.12.19] TRF Respect Idol Tribute (#3 Love & Peace Forever / iDOL Street (SUPER☆GiRLS / Cheeky Parade / Street Nama))
External Links
Ad blocker interference detected!
Wikia is a free-to-use site that makes money from advertising. We have a modified experience for viewers using ad blockers

Wikia is not accessible if you've made further modifications. Remove the custom ad blocker rule(s) and the page will load as expected.