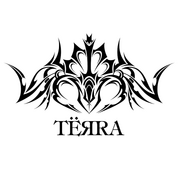 TЁЯRA
(Terra) is Konami's in house J-Pop group. They were formed in 2002 to create soundtracks for Benami's music simulation games.
As of 2015, the members of TERRA are both working under Capcom. Positive feedback has been received for a third album and it is presumably being worked on (with the rumored name INNOVATION).
History
2002
TЁЯRA was formed in 2002 as a J-Pop band for Konami, the 2 members Maeda Naoki and Karashima Junko were composers of much of the Benami games music.
2005
TERRA announced the release of their first album titled Revolution. The album was met with wide success from the Konami community and the duo continued their work
2006-2007
TERRA anounced their 2nd album which they said would be released later that year. It ended up being put off.
2009
On September 21, 2009, TERRA closed their official website. Their comment was they were too busy with other work to maintain it.
2011
On September 11, 2011 TERRA released their album titled "Evolution" almost 4 years later than its rumored release date.
Members
Discography
Albums
Songs
Pop'n Music
Beatmania IIDX
Guitar Freaks & DrumMania
Dance Dance Revolution
Jubeat
Reflec Beat
Crossbeats
Other Works
Ever Snow
Termination
Doll: L.E.D. Style Mix
Dive to the Night
Revolution
Stars [Re-tuned by Hal]
Seinaru Kane Ga, Narihibiku Machi (2004 Konami Style Christmas Campaign ver.)]
Trivia
Jun does most of the singing in the songs while Naoki composes the music.
As of 2012 the group is currently on hiatus.

After Naoki and Jun both left Konami, it is unknown if Terra is still together.
External Links